Virtual Assistant : Definition, Tasks And Tips For A Smooth Collaboration With Them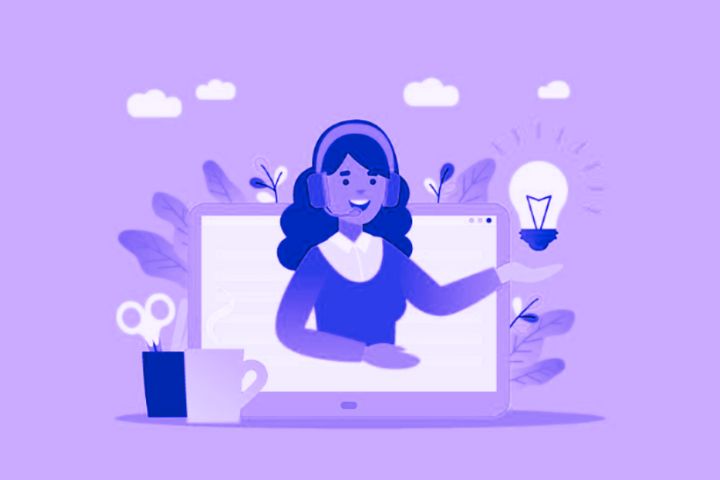 Are you drowning in work but can't have your assistant or full-time accountant? Then virtual assistants can help. Where to find on-demand support – and what to look out for.
The presentation for the customer has to be ready by tomorrow. The hotel room for next month's fair hasn't been booked yet. And the phone keeps ringing.
Anyone who has to take care of everything, from travel planning to bookkeeping to social media support, can hardly concentrate on their core business.
However, many founders, self-employed persons and entrepreneurs with few employees cannot afford a permanent employee for such tasks.
The solution: outsource unpopular, time-consuming tasks to service providers who work on call and usually charge for their services by the hour. You don't get to see the helpers; communication occurs via telephone, email or chat.
The concept has been around in the US and UK since the 1990s. In Germany, the idea of ​​digital outsourcing was popularized primarily by the author and entrepreneur Timothy Ferriss.
In his 2007 book The 4-Hour Workweek, Ferriss advocates handing off simple and time-consuming tasks to virtual assistants and working just four hours a week on core business.
The boss can use the time gained in this way for language courses or travel, for example.This radical approach may not be feasible for every entrepreneur.
But even those who delegate only a few tasks to virtual assistants are relieved. And gains the freedom to work on concepts in peace, to develop new products – or to call it a day on time.
What tasks can virtual assistants take on?
Typical tasks of virtual assistants include:
Telephone service (taking calls on behalf of customers and passing messages)
Office service (internet research, travel bookings, creating PowerPoint presentations)
Accounting (recording and account assignment of submitted receipts, invoices and receipts)
Social media support
Sending advertising or press mailings
To start with, tasks that require little training, such as scheduling social media posts or sending out newsletters, are suitable.
The longer you work together and the better you know each other, the more complex the tasks could become. For example, now takes on project management or onboarding new team members for some customers.
Little research or telephone service tasks can also be handed over once. As a client, you are flexible and can try out whether outsourcing works at all.
How much do virtual assistants cost?
That depends on their level of specialization and the tasks they are supposed to take on.
Telephone services can often be booked as a package. For example, the entry-level tariff for providers is EUR 49.90 per month, with the smallest package costing EUR 39, plus fees per call any minute.
If you want to test working with a virtual assistant for office services or social media support, you can book a trial package with agencies such as my-vpa.com; five hours then cost 17.80 euros plus VAT.
But there are also experienced virtual assistants who charge 45 euros and more an hour. Some then calculate in 15-minute intervals.
Clients benefit from the flexibility: If they need support, they can book it as needed. Usually, there are no monthly flat rates.
Where can entrepreneurs find a virtual assistant?
About recommendations
Anyone interested in long-term cooperation should first ask around friends of theirs or acquaintances and ask for recommendations. This is a reliable way to get good assistants.
Of course, you can also google or search for someone in corresponding Facebook groups. You don't know in advance whether it will fit in the end – just like when looking for ordinary employees.
About agencies
With agencies like my-vpa.com and intechopen.com, you book an hourly package, describe the task, and assign an assistant.
The advantage: If an assistant fails, the agency provides a replacement, so the tasks are always completed on time. However, clients initially do not influence who takes on their job.
In job boards
On job exchanges such as fernarbeit.net or freelancer portals such as upwork.com and entrepreneurs can publish their applications free of charge, and the assistants then apply for them. When working remotely, it is also possible to contact virtual assistants directly.
Tips for a smooth collaboration with virtual assistants
Allow enough time for training.
The aim is to save time with the support of the virtual assistant. But especially at the beginning, clients have to invest time first. "For things to go well, you have to explain the tasks properly, give feedback and correct if something wasn't delivered as desired," says Gebler.
Brief in detail
"The task should be described in as much detail as possible. It's better to explain too much than too little," advises the virtual assistant.
For example, if you want someone to do a competitive analysis, be specific about what you want the analysis to be about, how many competitors you want to include, and how you want the results presented.
communicate timings
Gebler recommends clear deadlines for when a task should be completed. Make an appointment halfway through to discuss an interim status for larger projects.
That way, you can tell if things are going in the right direction. And so that nobody gets lost, it makes sense to discuss the minimum or a maximum number of hours that should be invested in a task.
set priorities
If an assistant implements several projects for a client, it should be clear which task is most important.
Keep in touch regularly.
Virtual assistants are self-employed and usually work for different clients – so they are not available 24/7. Clear fundamentally through which channels you want to communicate. And discuss when you expect an answer to your email, a callback or a chat message.
prevent misunderstandings
Misunderstandings can quickly arise if you don't sit across from each other and only communicate by email or telephone. I like to summarize tasks again – like a server who repeats the order in the restaurant.
So you want A, B and C by the end of next week. If you as the client feel that the to-do has not yet arrived properly, it is better to ask too much than too little.
Don't give up when you have difficulties.
Like on-site employees, things can go wrong when working with virtual assistants. Before immediately terminating the cooperation, check whether the briefing is too long.
If the result is not as desired, looking for a solution together, for example, agreeing that the assistant invests an extra two hours.