What Is the Best Laptop for Remote Work? 3 Options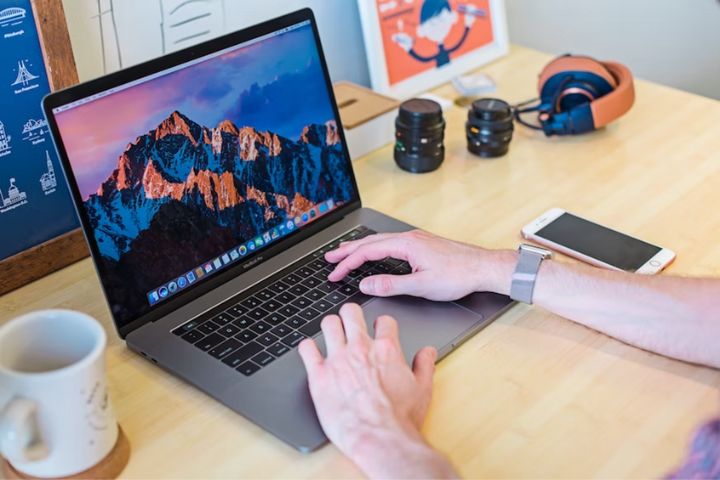 Remote work is nothing new, but it sure has taken the spotlight since Covid-19 grabbed the world in its grasp. Many of us have remote jobs now, which require a functioning computer and internet access. But with so many laptops in the market, which is the best laptop for remote work?
There is no simple answer to that question. Some jobs require a fast but basic laptop for emailing, using Microsoft office, and online meetings. While other jobs require high-end laptops with outstanding graphics for more creative work like video editing and 3D modeling.
Whatever your requirements are, the list below mentions the three best laptop for remote work delivering high performance for all tasks.
MacBook Pro – Best High-End Performance Laptop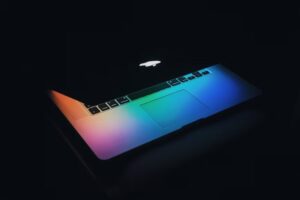 Whether you want a laptop for freelance content creation or corporate work–the MacBook Pro is a clear choice. It's got the power to handle any task you throw at it, plus the battery life to keep you going all day long.
Using the MacBook Pro is subtle and straightforward. However, uninstalling an unwanted app can be a bit of a task. Nevertheless, you can quickly get around that with the best uninstaller apps. And if that is not enough, you can check the video below for extra tips on how to deal with storage problems on your computer:
So what makes the MacBook Pro so great for remote work? First and foremost, it's got the power to get the job done. With a 16-core GPU and 512GB of SSD (expandable), it can handle anything you throw. Whether it is basic web browsing or heavy video editing on software like Final Cut Pro – you can do it all on the Macbook Pro.
Second, the MacBook Pro has excellent battery life. With a battery life of up to 11 hours for wireless web browsing, you can get through an entire workday without worrying about finding an outlet.
Finally, the Touch Bar is a game-changer for remote work. With it, you can quickly access the tools and files you need without fumbling around with your mouse or trackpad.
MacBook Pro 16-inch Specifications:
16-Core GPU
512GB SSD Storage
140W USB-C Power Adapter
Magic Keyboard with Touch ID
Three Thunderbolt 4 ports, MagSafe 3 port, SDXC card slot, HDMI
The Macbook Pro starts at $1299.
MacBook Air – Best Portable and All-Round Performance Laptop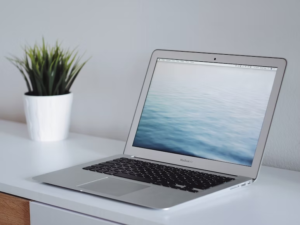 It is lightweight, fast, and thin, making it perfect for traveling. It also comes with a brand-new M2 chip, making it more reliable.
MacBook Air takes the second spot as a lite version of MacBook Pro and yet a robust laptop for everyday tasks. It is a powerful machine that can handle many tasks, including minimal video and photo editing. Though it doesn't offer the same performance as the MacBook Pro, it still got high marks in our review.
The design of the MacBook Air is still exquisite and minimalistic. The device is now made with 100% recycled wood fiber, making it more environmentally friendly.
One of the best things about the MacBook Air is its price point. It's significantly cheaper than the MacBook Pro, making it an excellent option for those who need a powerful laptop but don't want to break the bank.
MacBook Air 13-inch Specifications:
8-core CPU
512GB SSD storage
8GB unified memory
Two Thunderbolt 3 ports
6-inch Liquid Retina display with True Tone
The MacBook Air starts at $1199.
HP Envy 13 – Best Budget Laptop
Not everyone can afford a laptop worth over $1000. But that shouldn't come in the way of working remotely. The HP Envy 13 is an excellent choice for anyone who needs a reliable, affordable laptop for remote work.
It's lightweight and portable, so you can take it wherever you go. It has a long battery life, so you can stay productive even when you're away from an outlet.
This laptop gives you a sleek design with robust functionality. It's perfect for online video conferencing, streaming movies and TV shows, and browsing the web. The HP Envy 13 is also great for students who need a laptop for schoolwork and research. Thanks to the AMD Radeon graphic driver, you can edit light videos and photos.
Besides that, the subtle silver finish and chrome linings make it look like a laptop that costs twice as much. However, thick bezels and a plastic touchpad give away some high-end looks. But that's nothing for a computer with reliable performance and a luxurious look.
HP Envy 13 Specifications:
Intel Core i7
16GB RAM (Expandable)
256 GB SSD
AMD Radeon Graphics
3 Inches FHD Display
HP Envy 13 costs $779.
Final Thoughts
You can find hundreds of laptops for slightly varying specs and features in the market, all claiming to be great for remote work. However, laptop shopping can not be mistaken, and you must be careful with your choices.
Above, we mention only the three laptops best in business for remote work. They are widely popular and backed by thousands of reviews, so you can't go wrong with them.